Debrecen – hotel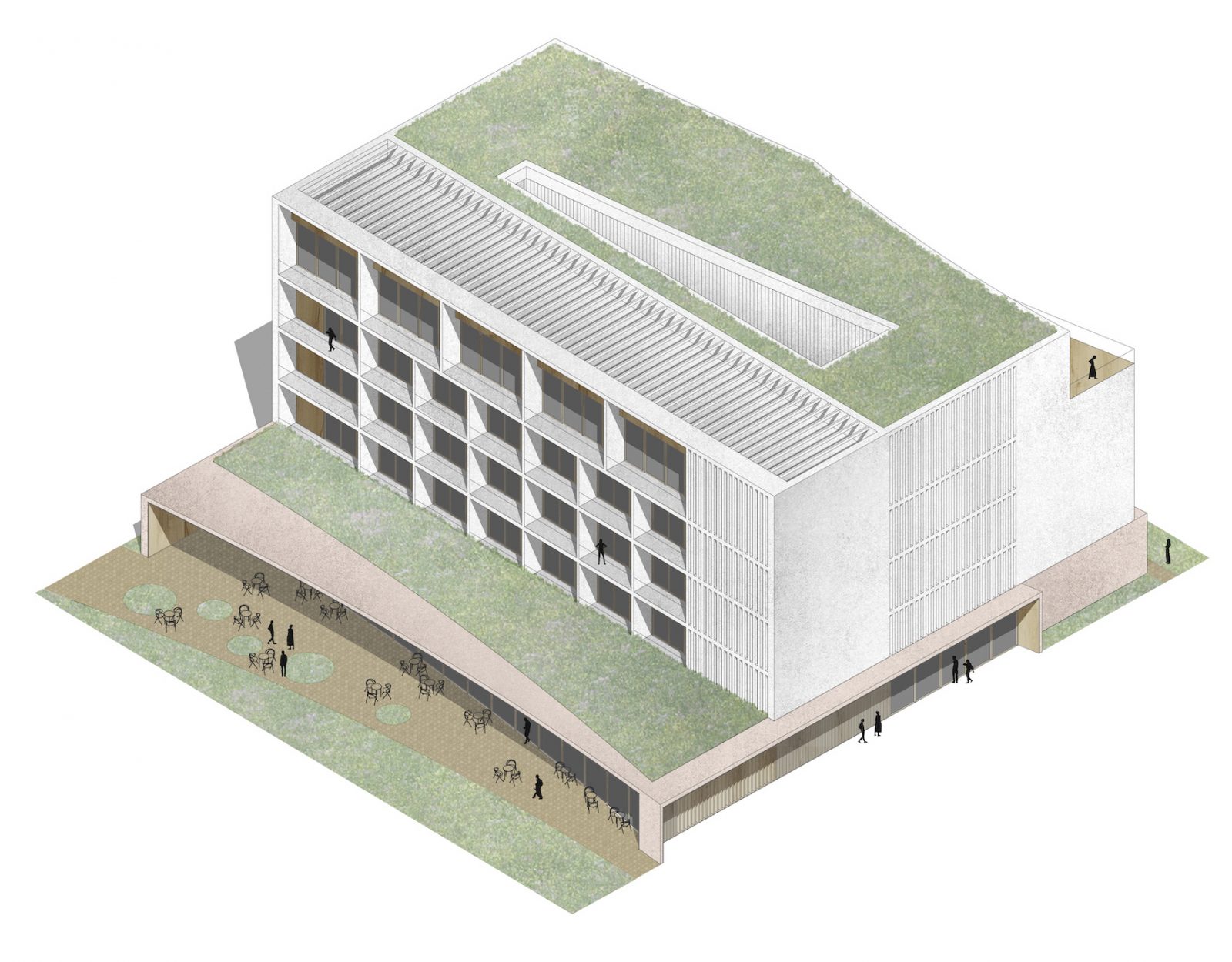 2022



National competition for the design of the University of Debrecen UniGreen Hotel, 3rd prize
---
Architects: Balázs Biri, Levente Szabó
Co-designers: László Rátgéber, Borka Surján, Szabolcs Szilágyi, Bendegúz Zacher
---
The given area in the Nagyerdő in Debrecen offers the opportunity to create a hotel with a unique atmosphere, which, in addition to the operating model formulated in the design program, can create a different, attractive situation with its valuable position and proximity to nature, which is not only educational but also attractive from a touristic point of view.
Our primary objective considering the building was to create an intensive link with the surrounding natural environment. The main character of all the public spaces of a hotel in this situation, and the main value of its rooms, can be found in the quality of the visual and spatial links with the surrounding forest. How different it is to take advantage of the shade given by the tree trunks than to look out at the height of the canopy, or even to look far above it! To take advantage of this, the main public spaces on the ground floor (restaurant, conference rooms) are organized around the perimeter of the building, while the rooms on the upper floors are naturally oriented towards nature and the well-lit sites, and the wellness area and sun terrace on the upper floor face the forest.
The proposed hotel is composed of a 'flat' mass of a ground floor almost stretching out on the site and a four-story 'tower' of hotel rooms. The upper levels housing the rooms is set back from the ground floor, so that the visitor is greeted by a smaller-scale ground floor section on arrival, and the densely overgrown surroundings mean that the actual building mass is barely revealed in its entirety.
Our proposal is to create a hotel that, while preserving its natural assets, can, by means of its unique solutions and interior spaces in a relatively small area, overcome the uniformity of the interior, which is a  common feature of four-star hotels, and which is inevitably a consequence of the arrangement of the rooms. The central space of the planned building is the atrium lobby, which opens up into a funnel towards the entrance and becomes the heart of the building, a transparent, over-lit space 4 stories high, connecting the ground and first floors in the middle of the building.
Our concept proposes a clear, uncluttered functional scheme, separating the ground floor, which houses the community functions, and the upper floors, which contain hotel rooms. The upper mass is set back from the building, softening the dominance of the multi-storey massing of the hotel's programme, with the restaurant's almost pavilion-like wing extending into the forest as a restrained mass. Overall, the result is an architectural scheme that is compact but operates with complex interior spaces.